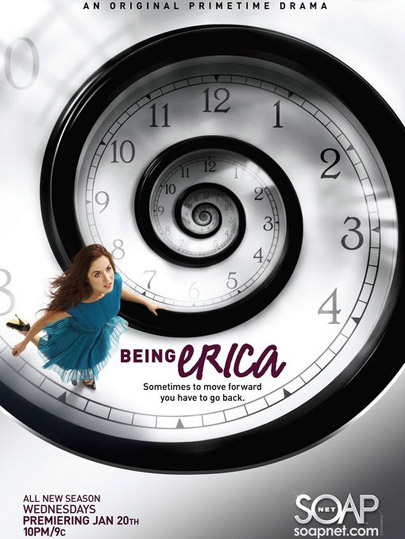 Being Erica promo for the USA's soapnet. Well it looks a bit like the yellow brick road, huh?
[warning: spoilers if you're behind - which I was and the spoilers really did spoil it for me a little]
I am not sure if 'Erica, Interrupted' was the final or penultimate episode of season three but, either way, there is definitely a Christmas special next week - which makes me glad I'm watching it online as I snuggle on the sofa by the advent calender in a woolly hooded top - rather than waiting for it to (possibly) come to British screens on a sweaty summer's night.
In 'Erica, Interrupted' Erica was interrupted by a coma - from which she awoke only to find herself in a different world to the one which she had grown accustomed since the day she first met her time-traveller therapist, Dr Tom. This forced her to consider whether the quantum reality she had believed all along was true had in fact just been a dream, meaning that the positive steps she had taken in that dream had led her to what would now constitute a false future. She woke into the past she thought she had left behind to find the people of this past peering at her from a rather pedestrian present. Her family and friends were the family and friends whom she had always known but those she had met since the day she entered therapy were completely different characters. Dr Tom the therapist is Dr Tom the neurologist, Dave the barista is Dave the porter and Julianne the publisher is Julianne the nurse (do these jobs equate to each other in the hierarchy of jobworthiness?) It was almost macabre to watch as they appeared clueless to her plight. They recognised her and she recognised them but the lenses through which they identified each other were skewed. A panicked Erica asks Dr Tom the neurologist why he is testing her like this and he just calls up her parents and asks some guys to restrain her. She has to ask herself whether she is actually going insane. In this sense the title of the episode alludes to the film about some women whose natural, 'normal' course of life is interrupted by mental illness, 'Girl ,Interrupted' - which turns out to be one of writer Jana Sinyor's favourite films (

Jana Sinyor interviewed
). As the audience, we have to ask ourselves: is Erica really concussed and she has been heavily dreaming/fantasising? Or is she suffering from mental illness? Or is this just another time travelling trip to one of her past regrets and there's something she should be changing in it? The shocking shift in narrative direction in this episode is that Dr Tom does not seem to know her in the capacity he always has - over the three seasons. We can't be sure whether he is playing a trick on Erica or whether the writers are playing a trick on us.
Both were true. The major shift in format happened for a reason and it wasn't just the authors dabbling in postmodern narrative non-conventions. Dr Tom was testing Erica in a way quite like never before because finally Erica was being given the chance to become a Dr herself. She passed. She is now a Dr. She passed the test which was not just realising that it was a test but realising that, whether it was a test or not, she was strong enough to deal with it and to move on from dealing with it. She references one of Dr Tom's earliest quotes to her, taken from Albert Einstein - 'in the middle of difficulty lies opportunity.' This is significant considering that she herself is becoming Dr. Credit to the writers who have always held that they had planned the whole plot direction of the seasons from the start. It was a clever episode and I revelled in the way that it felt almost inter-textual in its possible references to other seminal movies and TV programmes which play with temporary parallel realities and parallel characters, such as Life on Mars, It's a Wonderful Life and, perhaps most pertinently and surprisingly, the Wizard of Oz. It left me nearly satisfied considering the negativity of my opinions of season 3 - which I gave in my last review. It didn't answer any of the questions I was asking last week in relation to the unresolved issues of many of the main characters - including Dr Tom's. But it almost made the necessity to ask those questions obsolete.
We are happy that Erica has found doctorhood and has a new office which she can fill with the things she desires just by imagining them. We are pleased that Dr Tom now addresses her as an equal and that he shook her hand causing the first intentional act of physical contact between them - something which was previously so lacking that you had to ask yourself whether his body was solid or ethereal. Some of us are pleased that her romance with Adam continues whilst others of us (the more gritty realistic types) are happy that it is still not perfect due to the fact that Adam himself failed the doctorate test and so they are not really equals. There was also the sub plot around Julianne and Brett's bizarre friend/colleague/enemy/love relationship and the suggestion that they are moving on in some way, together. All these things are positive for Being Erica's development but I can't quite forget the shortcomings of the other 11 episodes of this season. However, it's possible that there'll be a season 4 and that some of the more absent storylines will be picked back up and headed towards resolution. We need to twitter and blog about Being Erica if we want to keep it on CBC's radar and this is all the more necessary considering that it has been acknowledged that the majority of Being Erica's audience comes via downloads.
There needs to be a season 4 because in order to feel fulfilled as her trusted viewers we need to witness Erica in her ultimate prime, as a Dr. We need to know what her office will look like when she's finished decorating it. We need to see more of Dr Tom, Dr Nadia and Dr Arthur and how they relate to Dr Erica. And we also need to know who Erica's first patient will be. Hands up?